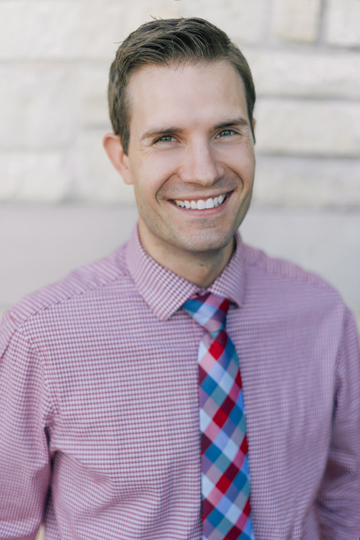 After growing up in Texas, Europe, and Utah, Dr Robbie Schaack is proud to have made the Hill Country his home! After spending many years as a city folk, he and his family fell in love with all the beauty and recreation this area has to offer.
Dr Schaack is a progressive and caring dentist who treats each individual as a person and friend first, and as a patient second. He loves connecting with his patients on a personal level and listening to each individual's unique concerns, needs, and wants.
As a young adult, Dr Schaack volunteered two years of his life to serve a humanitarian mission in Lithuania. During this life-changing experience, he discovered his passion for empowering others to make lifestyle changes that cultivate better health and prosperity. He continued to pursue this passion by completing his dental training at the prestigious Baylor College of Dentistry where he graduated with numerous awards for his clinical achievement, leadership, and community service. His commitment to providing the highest quality of care then led him to complete an additional optional residency program at the University of Washington in Seattle where he received advanced medical and dental training. He continues to advance his knowledge by completing about ten times more continuing education hours each year than what is required by the state board.
In his own words, "Because the mouth is the gateway to the rest of the body and has a major impact on the overall health and well-being of every individual, my career is very exciting and rewarding! It saves smiles and it saves lives!"
When Dr Schaack is not in the office, his favorite hobbies include date nights with his wife Jessica, listening to podcasts and audio books, taking road trips, and playing with his darling daughter Myla who anxiously awaits to tackle him when he comes through the door from work each day. He has also been heavily involved in community volunteer work by serving on boards of local dental societies, leading oral health awareness campaigns in elementary schools, helping cancer victims, and performing dental work for the needy in community clinics. He has led several humanitarian efforts in Eastern Europe and Central America. He is also very active in giving service to local church and youth groups, and currently leads a bible study class for youth.