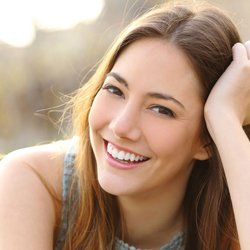 Dentistry is about more than just fillings and root canals. Our office isn't only here to improve your dental health, but to give you a smile that you can be proud of that can help you feel great about your appearance! 
If there's anything you don't like about the way your smile looks, talk to us today. Whether you've just chipped a tooth or have been living with a discolored tooth for years, the smile designs we can provide in our office make it possible for us to repair aesthetic flaws of all kinds.
What Is Smile Design?
If there are multiple areas of your smile that you'd like to improve, we use smile design to create a plan to treat all of these areas in uniquely effective ways that will give you your ideal smile. We're able to make this a reality by performing several different cosmetic treatments in a single appointment. 
Combining these procedures into one visit or one single treatment plan that is totally focused on improving every aspect of your smile is what makes a smile design so great. This great treatment plan is often called a smile makeover as well because of the many problems it fixes all at once.
Smile design and smile makeovers can consist of all kinds of different cosmetic dental procedures, including the following:
Teeth Whitening.

If your smile has naturally discolored over the years or you're struggling with noticeable staining from nicotine, coffee, or other substances, teeth whitening can help restore your smile to its natural color. Even if your teeth aren't obviously discolored, teeth whitening can give your entire appearance a pick me up!

Veneers.

Dental veneers are a versatile dental tool that can solve all kinds of dental issues. These thin porcelain shells are placed on the fronts of your natural teeth, and can conceal stains, reshape small or crooked teeth, and repair cracks or chips in the surface of your teeth.
Why Should You Consider Smile Design?
If you're someone who doesn't enjoy investing much time or money in your physical appearance or someone who doesn't particularly enjoy the dentist's office, it might sound as though smile design and cosmetic dentistry isn't for you. But there are more benefits to a smile makeover than you might realize, including:
Better Dental Health
Some cosmetic dentistry treatments have obvious health benefits. Dental veneers, for example, can help protect a broken or chipped tooth from further damage. Veneers can keep bacteria out of your inner tooth and have long-lasting health benefits.
A full smile makeover can benefit your dental health, too. If you choose to straighten crooked teeth, you'll quickly discover that it's much easier to brush and floss. Repairing a worn-down tooth can improve your jaw health and make your bite more comfortable. Ask us more about how your smile design treatment can benefit your overall health!
Improved Self-Confidence
Your smile is one of your most prominent features. It's one of the first things people see when they interact with you, so it's important that you feel good about how your teeth look! 
We've seen for ourselves that patients who receive smile design treatment feel better about their smile almost immediately, which quickly translates into feeling better about themselves and their appearance. You'll be able to go into your next interview, date, presentation, or interaction with family or friends with more self-confidence than ever. 
Don't Live With a Smile You Don't Love—Call Us Today for a Smile Makeover!
Our smile design process is designed with your happiness and your ideal smile in mind. Tell us what you want your smile to look like, and we'll make it a reality!
Contact us today to schedule an appointment, or to learn more about what smile design can do for you.