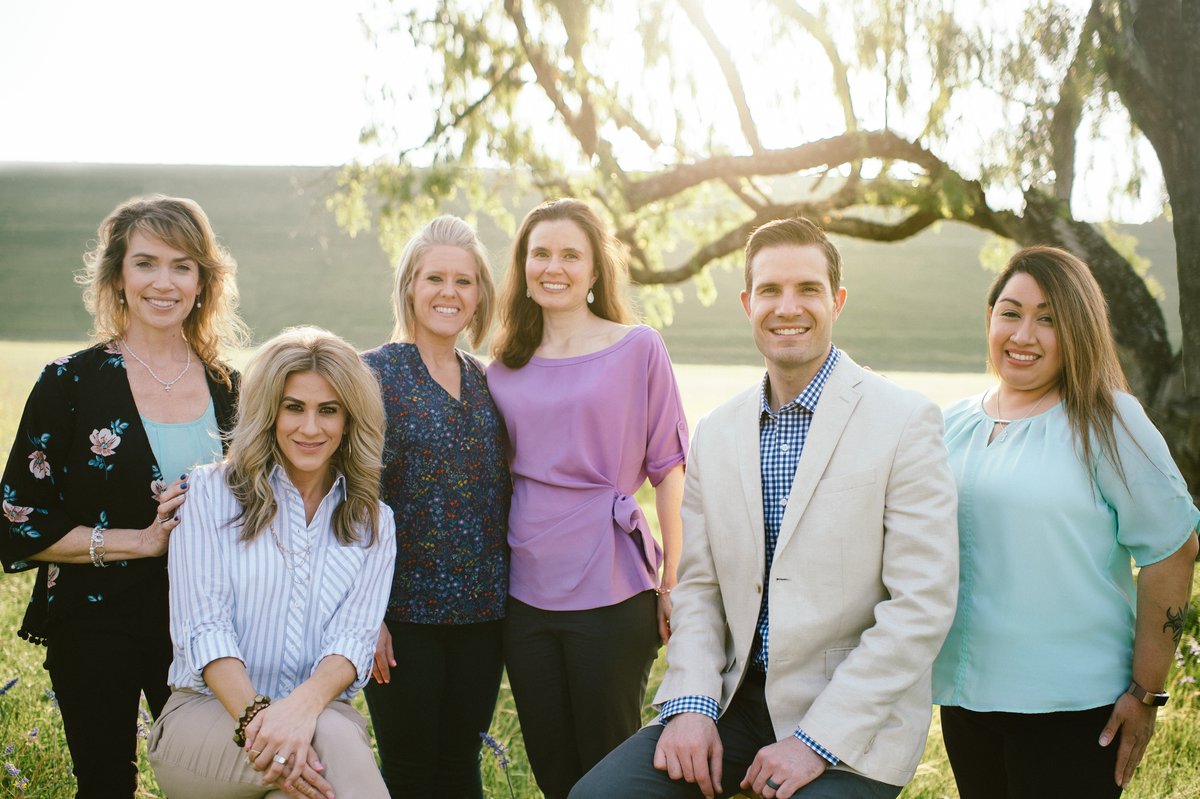 Teresa Shepperd – Office Administrator
Teresa does just about everything for our practice including coordinating your care, scheduling, and financial arrangements.
She started her dental career 31 years ago in Houston and has been here working at this practice in the Hill country for 18 years.
"Nothing is more rewarding to me than helping people and calming their fears of coming to see us. I enjoy being a part of this great practice. It's more than a job, it's like family."
In her spare time she enjoys running, cycling, and enjoying anything outside or water related. She likes spending time with family and friends which includes her beloved fur babies (3 dogs and 1 cat).
---
Mary Beth Petrie – Patient Care Coordinator
Mary Beth is a very experienced dental professional with 19 years of experience. She is very versatile in her skills with the ability to perform almost any job in the office, managing patient care in the front office, or assisting clinical procedures in the back. She is also a Registered Dental Assistant.
She moved to Texas in 2016 from central Illinois. As the mother of 3 beautiful children, she loves spending time with her family, exploring Texas state parks, and going to the beach, especially east coast beaches! She also enjoys road biking, reading historical fiction, and spending time with her two Golden Retrievers.
---
Jodi Palumbo – Registered Dental Hygienist
Jodi is a consummate professional who is passionate and takes pride in her work. Jodi provides patients with excellent dental hygiene care in a comfortable treatment environment. She has put time into her craft and believes strongly in being a patient's advocate which aids in empowering them in their oral health.
Jodi has a broad skill base with general dentistry, pediatric dentistry, and periodontal therapies, as well as staying up to date on the latest advancements in her field. She is dedicated to and enjoys the opportunity she has to help patients understand why complete oral health is beneficial, essential, and connected to their overall health.
Jodi grew up in small farming community in Southern Idaho and after marrying her high school sweetheart they spent many years in Utah for her husband to attend college. She wasn't born in Texas but got here as soon as she could. She loves living here and raising her three beautiful children, one daughter and two boys. In her free time, she enjoys spending time with her family, traveling, spending time outdoors, serving in the community, and of course shopping! Jodi has a strong desire to serve others by delivering hygiene care internationally on a dentistry mission trip.
---
BROOKE HEMPHILL – REGISTERED DENTAL HYGIENIST

Brooke was born and raised in a small town called Burnet, Tx. She moved to San Antonio shortly after high school to study dental hygiene at Concorde Career College, where she graduated with her degree in 2019. She is passionate about instilling confidence and comfort to her patients by removing barriers of fear or insecurity in order to help them achieve their greatest potential.
When she's not at the office you can probably find her with a book in her hand. She also enjoys drawing, playing tennis with her boyfriend, and watching videos about tiny homes.
---
MIYA HOUGHAM – REGISTERED DENTAL HYGIENIST

Miya is a Registered Dental Hygienist with a passion for listening to each of her patients and discovering each person's unique situations, educating them, and then building a custom oral healthcare plan to help everyone be the healthiest they can be.
Formerly a pharmacist in South Korea, Miya immigrated to the US when her eldest son was only 4 months old so she and her husband could raise their family in America. She wanted a change in careers and chose dental hygiene because of its proactive approach to healthy living. Having a deep international education and occupational history in the medical field has provided Miya a well developed and unique approach to dental hygiene.
Miya enjoys listening to acoustic music, playing with her two beautiful boys, cooking with her husband, and traveling to beautiful locations with interesting people.
---
KYLA BREWER – REGISTERED DENTAL ASSISTANT

Kyla can be found in all areas of the office, assisting in procedures with Dr Schaack, our hygienists, and also performing front office duties. She graduated from Concorde College with her RDA license in 2016.
Her passion for nurturing and helping others has helped her excel as an exceptional dental assistant. She has a gift for helping patients feel comfortable and at ease.
She was born in Colorado and grew up right here in the Texas hill country area. She loves being outdoors and on the water. After each work week you can find her at the lake, on the river, or at the coast.
---
Pedro Barbosa – Registered Dental Assistant

Pedro was born and raised in the great state of Texas. Right after high school he had the privilege of serving our country in the United States Marines.
Pedro loves helping our patients by easing their fears of going to the dentist and boosting their confidence by improving their smile. He has extensive experience working in the dental field, including the opportunity of flying all over Texas while working with an anesthesiologist. This experience has empowered him to also help our office as an Anesthesia Officer, helping ensure high standards of care and safety for all the sedations that are performed in our office.
Pedro is also a huge UFC fan and has never missed watching a fight. His other hobbies include doing artwork, and collecting vintage comic books and collectibles.